Welcome. This is my line of high end iambic & single lever paddles and keys. They include ball bearing movement, magnetic lever arm return,solid silver contact points, and quick "adjust on the fly" contact and magnet screws. Along with short lightweight aluminum lever arms and the correct geometry, these paddles offer an excellent and responsive feel, making QRQ (or QRS and anything in between) operation effortless. All ZN products are MADE IN THE USA soley by Tony Baleno, n3zn.
The ZN-HKII straight key uses 4 ball bearings, spring for return, stainless steel screws, and solid silver contact points.
I have had numerous inquiries about key covers over the years. Gifts4Hams makes an excellent key cover for the ZN series of paddles and keys. Also if you are interested in custom Fingerpieces, call Tom Kelly at Gifts4Hams..........................................Tony Baleno, n3zn All ZN series paddles and keys are MADE IN THE USA soley by Tony Baleno
All N3ZN products are copyrighted and licensed.
HUNTSVILLE SPECIAL: Due to the cancellation of the Huntsville Hamfest, I am offering free shipping to the lower 48 states for the month of August. This applies to any paddle or key that is in stock. This does not apply to special orders.
Available Inventory : Click here
Check out the new ZN-Lite - high perfomance iambic paddle under 4 oz. Mount for the Elecraft KX3 is an available option.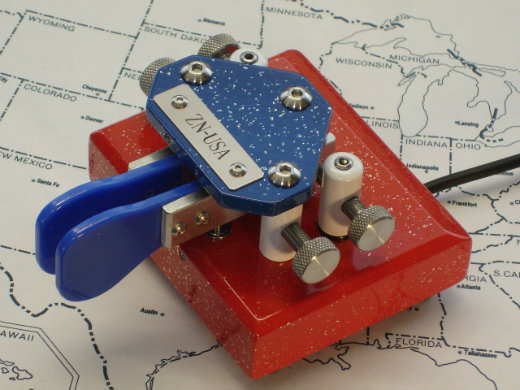 ZN-USA 1/2" OTO


The iambic paddles are available in 5/16", 3/8", 1/2",9/16, 5/8" or 3/4" OTO - see OTO options for more details. These are fixed parallel arm arrangements. Measure your favorite key's OTO and order accordingly. The ZN-MiniMITE, ZN-9ZX & ZN-9RZ have the 3/8" and 5/8" OTO options. The ZN-9, ZN-9A and ZN-QRP have the 1/2" and 3/4" OTO options. The ZN-45 and ZN-Lite are available in 5/16" and 9/16" OTO's. Fingerpieces are Lexan Polycarbonate (except ZN-Lite which has powder coated aluminum).
The ZN -SL represents the single lever paddle using two Lexan fingerpieces with an OTO of 3/8".
The ZN-HKII is the straight key using 4 ball bearings and solid silver contacts.
Check out the ZN-MiniMITE - high performance stand alone mini iambic paddle.