This is my line of custom handmade high end iambic paddles, N3ZN Keys - ZN series. Incorporating old school looks with new school technology, they feature ball bearing movement, magnetic lever return, and quick adjusting contact and magnet screws. Along with short lightweight aluminum lever arms and the correct geometry, these paddles offer an excellent and responsive feel, making QRQ operation a breeze.
Also, new in the line up is the all brass ZN-HK straight key using 4 ball bearings, spring for return, stainless steel screws and silver contact points.
Tony Baleno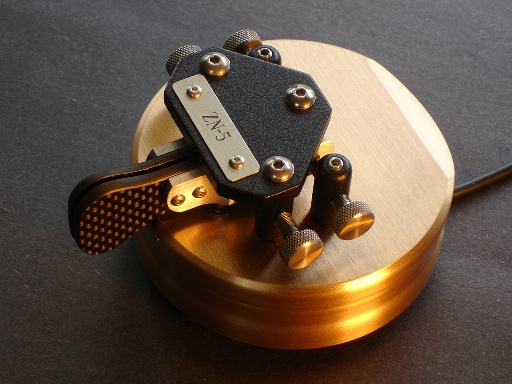 The ZN-5 shown is the BRONZE SPECIAL EDITION with 5/16" OTO ( outside to outside dimension of the fingerpieces) option. All the Iambic paddles now have the option of 5/16", 1/2", 3/4" and 1" OTO - see OTO options for more details. These are fixed parallel arm arrangements. Measure your favorite key's OTO and order accordingly.
The fingerpieces are available in red, blue, or black carbon fiber or clear and solar gray polycarbonate.
The ZN -SL, ZN-SLjr and ZN-SLR represent the single lever paddles.
The ZN-HK is the new straight key using 4 ball bearings and solid silver contact points.